6 Tips for Mac Calendar that We Used A Lot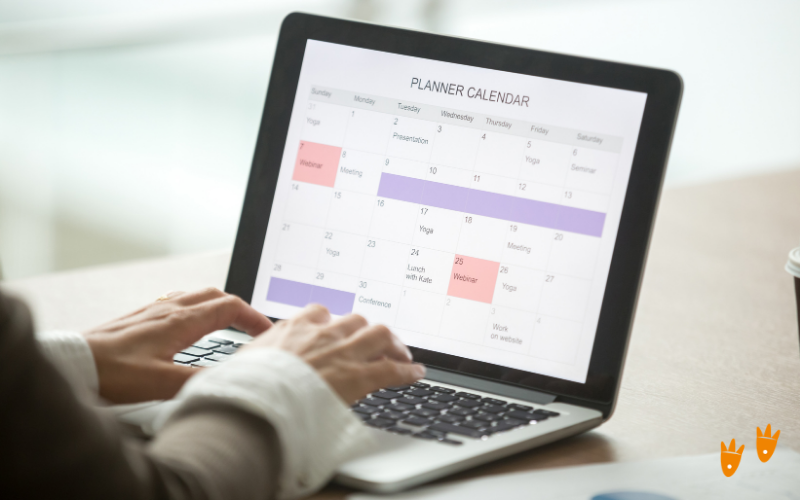 I use Mac Calendar a lot to organize my business and personal events. It syncs with my iPhone or iPad. I also can add my Google calendar to it. It is a central hub for me, no matter when and which devices I am using. I can add or modify my events, I always can see the most updated calendar. It has been very efficient and shortens my time of managing my daily plans. Today I want to share with you 6 tips for the Mac calendar that I often use in my business.
Tip 1: How to add a calendar (Google/Exchange/Yahoo calendar) to your Mac Calendar and set up sync time?
We use G-suite as our mail server. Sometimes, clients will send a meeting invitation from the email, and once we accept, the meeting will be added to our Google calendar. When clients make a time adjustment or cancellation, it will automatically show on our Google calendar. However, we use Mac Calendar as our center event plan hub. The ability to add Google calendar as an extra calendar to our Mac calendar is a must-have feature.
On your computer, open Apple Calendar. 

In the top left corner of your screen, click Calendar -> Preferences.
Click the Accounts tab. On the left side of the Accounts tab, click the Add (+) button.
Select Google or other calendars that are needed, and then select the Continue button. (We used Google calendar as an example.)
Follow the steps on the screen to add your account information.
On the Accounts tab, use "Refresh Calendars" to choose how often you want Apple Calendar and Google Calendar to sync. Options range from every minute to every hour and there is also a manual setting option.
The newly added calendar will show up on the left side of your calendar. 
Tip 2: How to Print Events as a List layout?
It is really nice to have a calendar view for everyday tasks, so you can plan your days and balance your tasks. Move tasks from a busy day to a not that busy day.  But it also nice to view all your tasks in a list view. We used this for our social media content plan. We printed all our events in a list view so that we have an idea of how many social posts that we posted this month and what we need to do for next month.
 In your Mac's Calendar app, choose File > Print.
 Click the View menu, then choose the list layout.
Click the Starts and Ends menus, and set a time range.
Select which calendar you want to print.
Click the Continue button, choose your printer and any printing preferences, then click the Print button.
Tip 3: How to view Events as a List
Mac Calendar does not provide the ability to show the upcoming events in a list view. We know we can print them in a list view, but sometimes you want to take just a quick look at the upcoming events. There is a quick way to work this out.
Just click the search box and tap a period(.) or double parenthesis ("") and hit Return. You should now see a list of all your upcoming events. See our Youtube video for a quick explanation.
Share a calendar with someone.
Click the Share icon. The icon is to the right of the calendar name in the sidebar.
Type the invitee's email address (it must be listed in your Contacts for it to work) in the Add Person field and press Return.
Click the pop-up menu with the invitee's name and specify privileges (View & Edit or View Only).
Repeat steps two and three if you have more than one person to share.
Invitation emails are sent from your iCloud email address.
Share a calendar publicly.
You can also share your calendar as a link, and anyone with the link can view your calendar. First, you will need to publish the calendar.
Choose the calendar you want to share.
Click the Share icon. The icon is to the right of the calendar name in the sidebar.
Tick the public calendar box, and then click the Done button.
The app now generates a URL for you to share. Copy and paste the URL and share with the people you want to share your calendar with.
Tip 5: Set an alert for your event so it will notify you on your screen (Both on Mac and your iPhone)
We use the alert function a lot, from client meetings and social media posts to my dental appointments and kids' school parties. You can set the day, recurring frequency,  and alert from 5 minutes before the event to 2 days before the event. You can also select the custom option in the alert, and get an alert a couple of days after the events. We use this option sometimes to remind us to analyze how a post is doing after a certain time.
If you turn on Location Services and you add an address to an event, Mac Calendar can tell you when to leave based on the current traffic. Pretty neat!
Select an event and double click it.

Click the event's time, and set up the time.
Click the Alert pop-up menu, then do one of the following:

Choose a time or day.
Choose Time to Leave. This option only applies if you added a location. For information about how time to leave is calculated, see Add a location.
Choose Custom, then choose an option:

Message with sound: Displays a notification on the screen and makes a sound.
Email: Sends you an email.
Open file: Opens the file you choose.

To add another alert, place the pointer over the Alert pop-up menu, then click the Add (+) button.
To remove an alert, click the Alert menu, then choose None.
Tip 6: Automatically Open a File Before an Event
This tip is an extension from tip 5. We think it is another very useful feature. When you set an alert, you can let the Mac calendar open a file for you before your event. It is really handy when you have a recurring meeting. You can set a custom reminder that opens a file like a meeting note template or similar file however many minutes before the meeting.
Select or Create an event and double click.
Select the alert optional, and choose the Custom option from the dropdown menu.
Choose Open file from all the options.
Select the file from your open folder.
Let us know if you have any other tips on this topic, and share them in the comment section.