An Inspirational Quote every week for 2021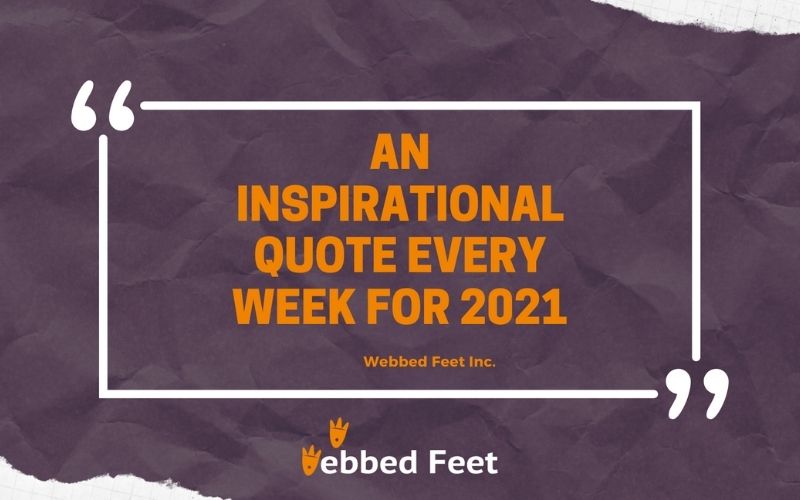 There are a lot of things that changed this year. Lifestyle-wise we are quarantined from each other, keeping social distance, and washing hands frequently. Work from home and Zoom meetings are very popular this year. Suddenly your co-workers became your stay at home children. How to balance between family and work is introducing some new challenges. Travel is limited, vacations changed from going to Disney and flying abroad to watching shows on Netflix, walking in the woods, or climbing a mountain.
As 2021 is approaching, did you finish whatever was in your 2020 new year's resolution? How do you feel about this year? How was your life affected by the coronavirus pandemic?
Whether your answers to the above are positive or negative, life is continuing. We have put together a list of inspirational quotes for 2021. Yes, an inspirational quote every week for 2021. Hope it will help you get through the new year.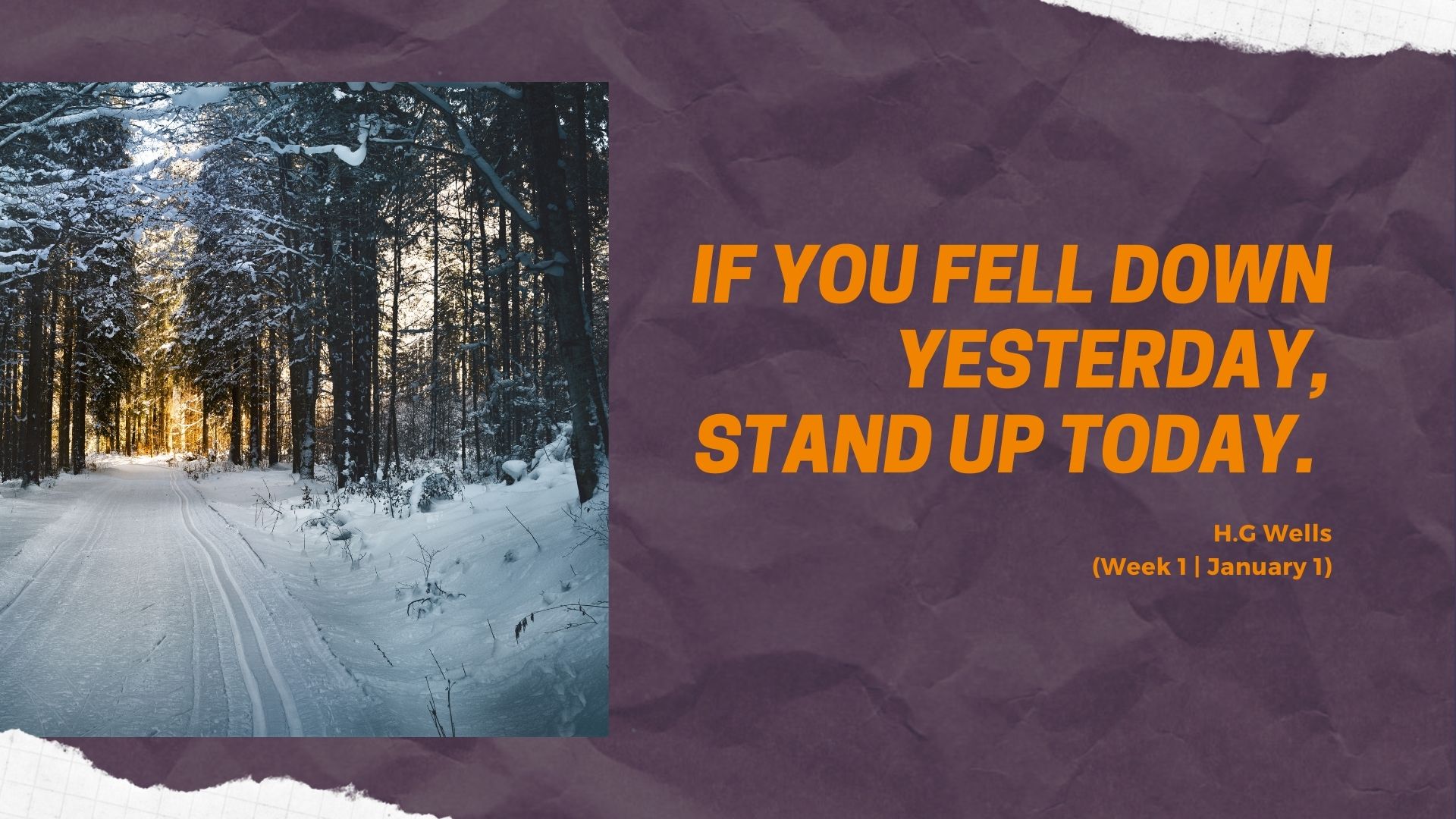 Winter (Week 1 – Week 12)
If you fell down yesterday, stand up today. – H.G Wells (Week 1 | January 1)
Believe and act as if it were impossible to fail. – Charles Kettering (Week 2 | January 8)
The art of being happy lies in the power of extracting happiness from common things. – Henry Ward Beecher (Week 3 | January 15)
We must be willing to let go of the life we have planned, so as to have the life that is waiting for us. – E.M. Forster (Week 4 | January 22)
Over every mountain there is a path, although it may not be see from the valley. – Theodore Roethke (Week 5 | January 29)
Don't worry about the world coming to an end today. It is already tomorrow in Australia. – Charles M. Schulz (Week 6 | February 5)
The less you talk, the more you're listened to. – Pauline Phillips (Week 7 | February 12)
Only I can change my life. No once can do it for me. – Carol Burnett (Week 8 | February 19)
Good, better, best. Never let it rest. 'Til your good is better and your better is best. – St. Jerome (Week 9 | February 26)
Change your life today. Don't gamble on the future, act now, without delay. – Simone de Beauvoir (Week 10 | March 5)
Life is 10% what happens to you and 90% how you react to it. – Charles R. Swindoll (Week 11 | March 12)
It always seems impossible until it's done. – Nelson Mandela (Week 12 | March 19)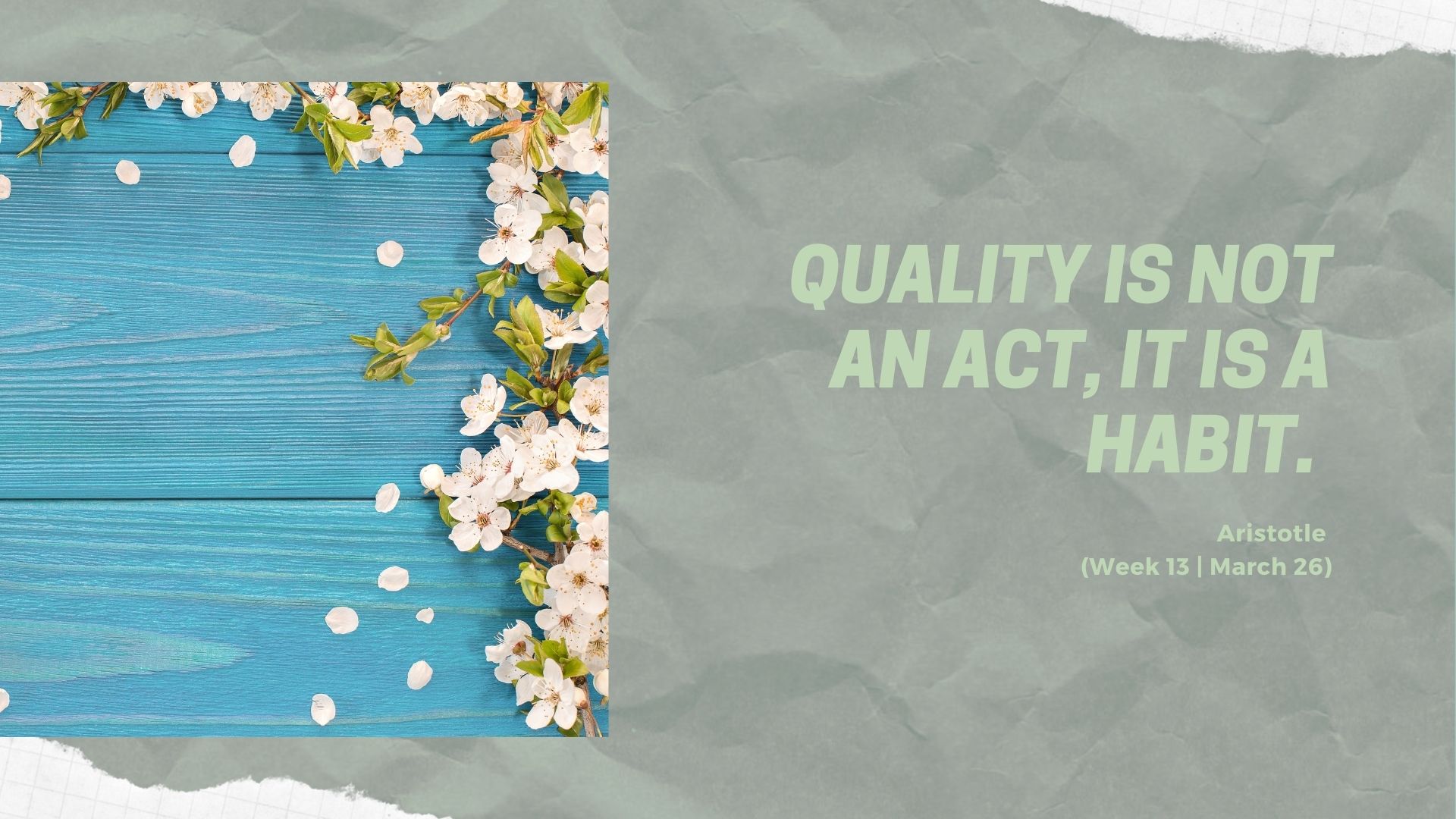 Spring (Week 13 – Week 25)
Quality is not an act, it is a habit. – Aristotle (Week 13 | March 26)
If you want to conquer fear, don't sit home and think about it. Go out and get busy. – Dale Carnegie (Week 14 | April 2)
The secret of getting ahead is getting started. – Mark Twain (Week 15 | April 9)
Problems are not stop signs, they are guidelines. – Robert H. Schuller (Week 16 | April 16)
Live life to the fullest, and focus on the positive. – Matt Cameron (Week 17 | April 23)
Love yourself. It is important to stay positive because beauty comes from the inside out. – Jenn Proske (Week 18 | April 30)
Your smile will give you a positive countenance that will make people feel comfortable around you. – Les Brown (Week 19 | May 7)
Each day, I come in with a positive attitude, trying to get better. – Stefon Diggs (Week 20 | May 14)
Yesterday is not ours to recover, but tomorrow is ours to win or lose. – Lyndon B. Johnson (Week 21 | May 21)
Clouds come floating into my life, no longer to carry rain or usher storm, but to add color to my sunset sky. – Rabindranath Tagore (Week 22 | May 28)
Keep your face always toward the sunshine – and shadows will fall behind you. – Walt Whitman (Week 23 | June 4)
All you need is the plan, the road map, and the courage to press on to your destination. – Earl Nightingale (Week 24 | June 11)
There is only one corner of the universe you can be certain of improving, and that's your own self. – Aldous Huxley (Week 25 | June 18)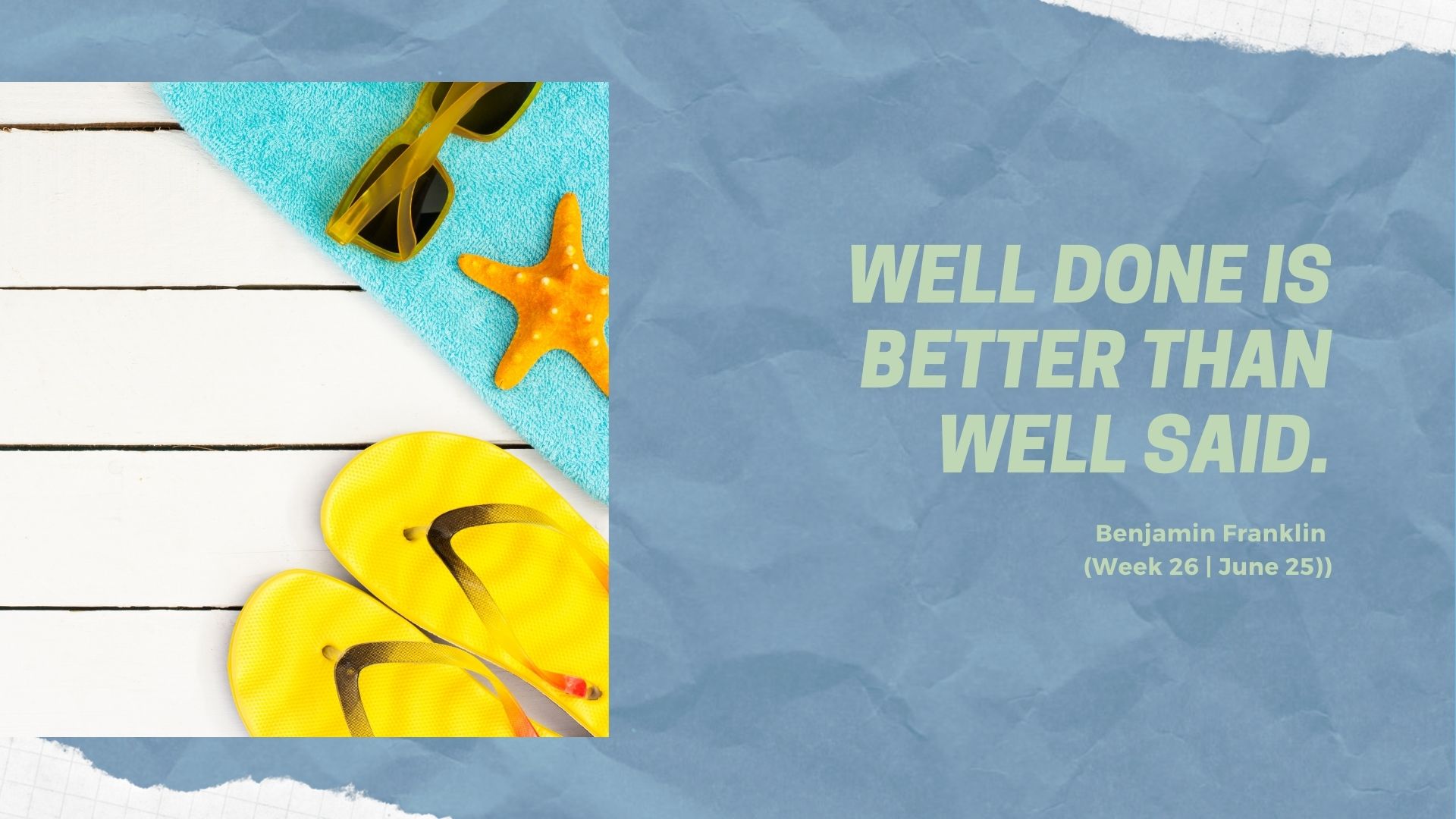 Summer (Week 26 – Week 38)
Well done is better than well said. – Benjamin Franklin (Week 26 | June 25)
Either you run the day or the day runs you. – Jim Rohn (Week 27 | July 2)
In order to succeed, we must first believe that we can. – Nikos Kazantzakis (Week 28 | July 9)
Do no wait to strike till the iron is hot; but make it hot by striking. – William Butler Yeats (Week 29 | July 16)
Every exit is an entry somewhere else. – Tom Stoppard (Week 30 | July 23)
A strong, positive self-images is the best possible preparation for success. – Joyce Brothers (Week 31 | July 30)
You cannot have a positive life and a negative mind. – Joyce Meyer (Week 32 | August 6)
In every day, there are 1,440 minutes. That means we have 1,440 daily opportunities to make a positive impact. – Yani Tseng (Week 33 | August 13)
You will always have ups and downs in your life and your career, but just stay positive and go for it. – Angelique Kerber (Week 34 | August 20)
You will never win if you never begin. – Helen Rowland (Week 35 | August 27)
Expect problems and eat them for breakfast. – Alfred A. Montapert (Week 36 | September 3)
A goal is a dream with deadline. – Napoleon Hill (Week 37 | September 10)
You can't build a reputation on what you are going to do. – Henry Ford (Week 38 | September 17)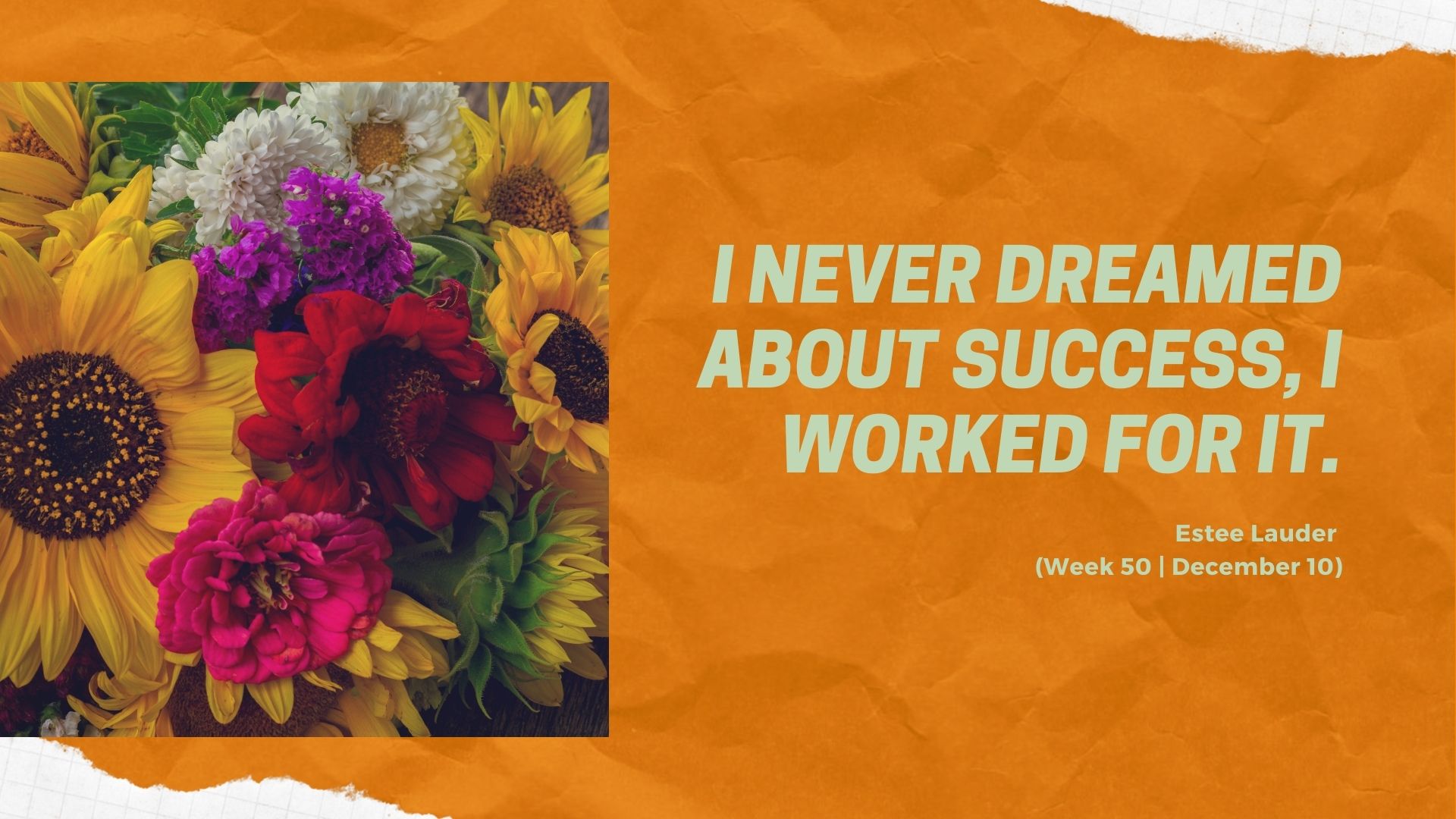 Fall (Week 39 – Week 51)
Always remember that you are absolutely unique. Just Like everyone else. – Margaret Mead (Week 39 | September 24)
I am blessed with a funny gene that makes me enjoy life. – Karan Patel (Week 40 | October 1)
If life were predictable it would cease to be life, and be without flavor. – Eleanor Roosevelt (Week 41 | October 8)
If you set your goals ridiculously high and it's a failure, you will fail above everyone else's success. – James Cameron (Week 42 | October 15)
The future belongs to those who believe in the beauty of their dreams. – Eleanor Roosevelt (Week 43 | October 22)
Never let the fear of striking out keep you from playing the game. – Babe Ruth (Week 44 | October 29)
You will face many defeats in life, but never let yourself be defeated. – Maya Angelou (Week 45 | November 5)
The greatest glory in living lies not in never falling, but in rising every time we fall. – Nelson Mandela (Week 46 | November 12)
Keep smiling because life is a beautiful thing and there's so much to smile about. – Marilyn Monroe (Week 47 | November 19)
I find that the harder I work, the more luck I seem to have. – Thomas Jefferson (Week 48 | November 26)
The secret of success is to do the common thing uncommonly well. – John D. Rockefeller Jr. (Week 49 | December 3)
I never dreamed about success, I worked for it. – Estee Lauder (Week 50 | December 10)
You know you are on the road to success if you would do your job and not be paid for it. – Oprah Winfrey (Week 51 | December 17)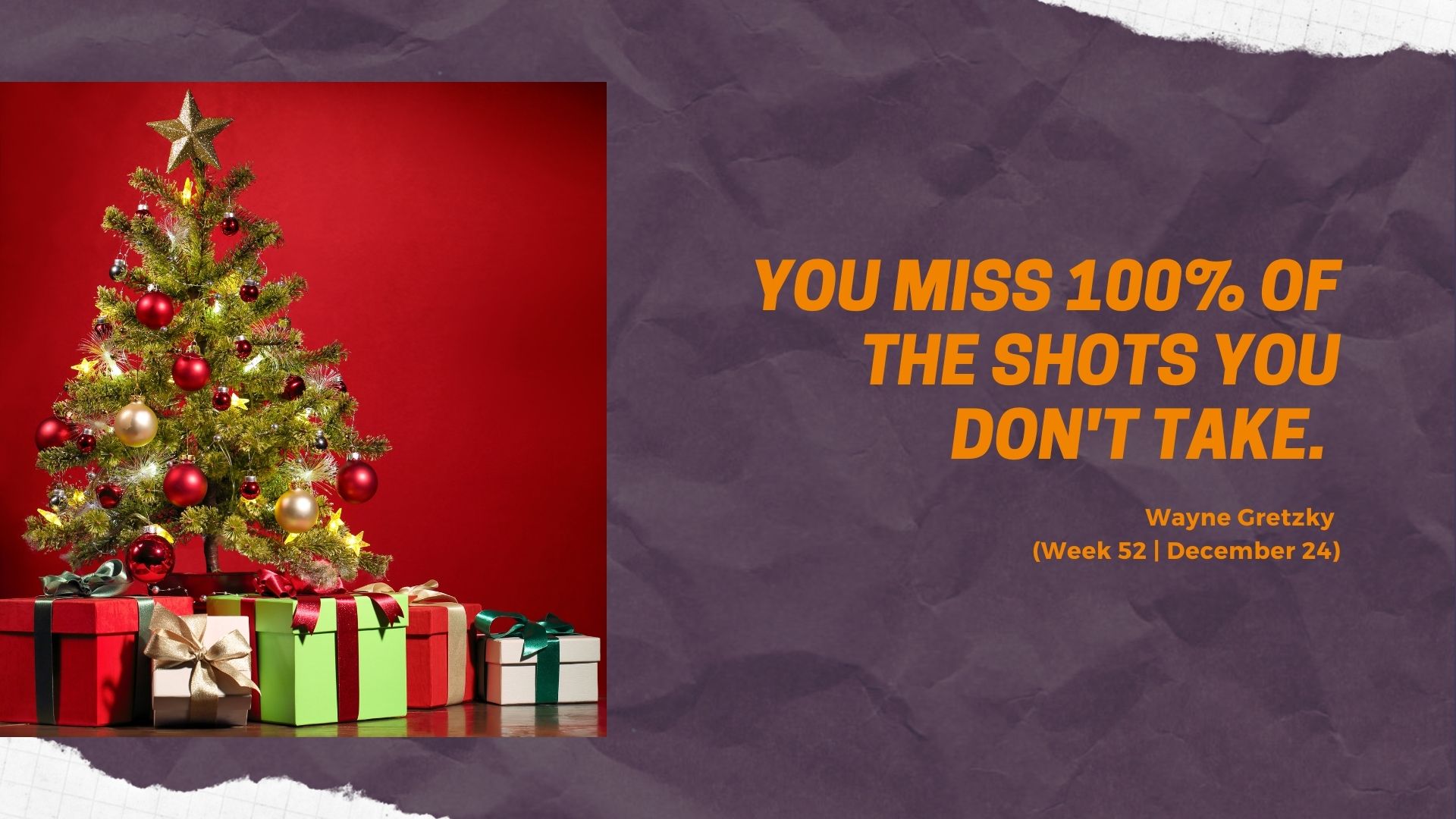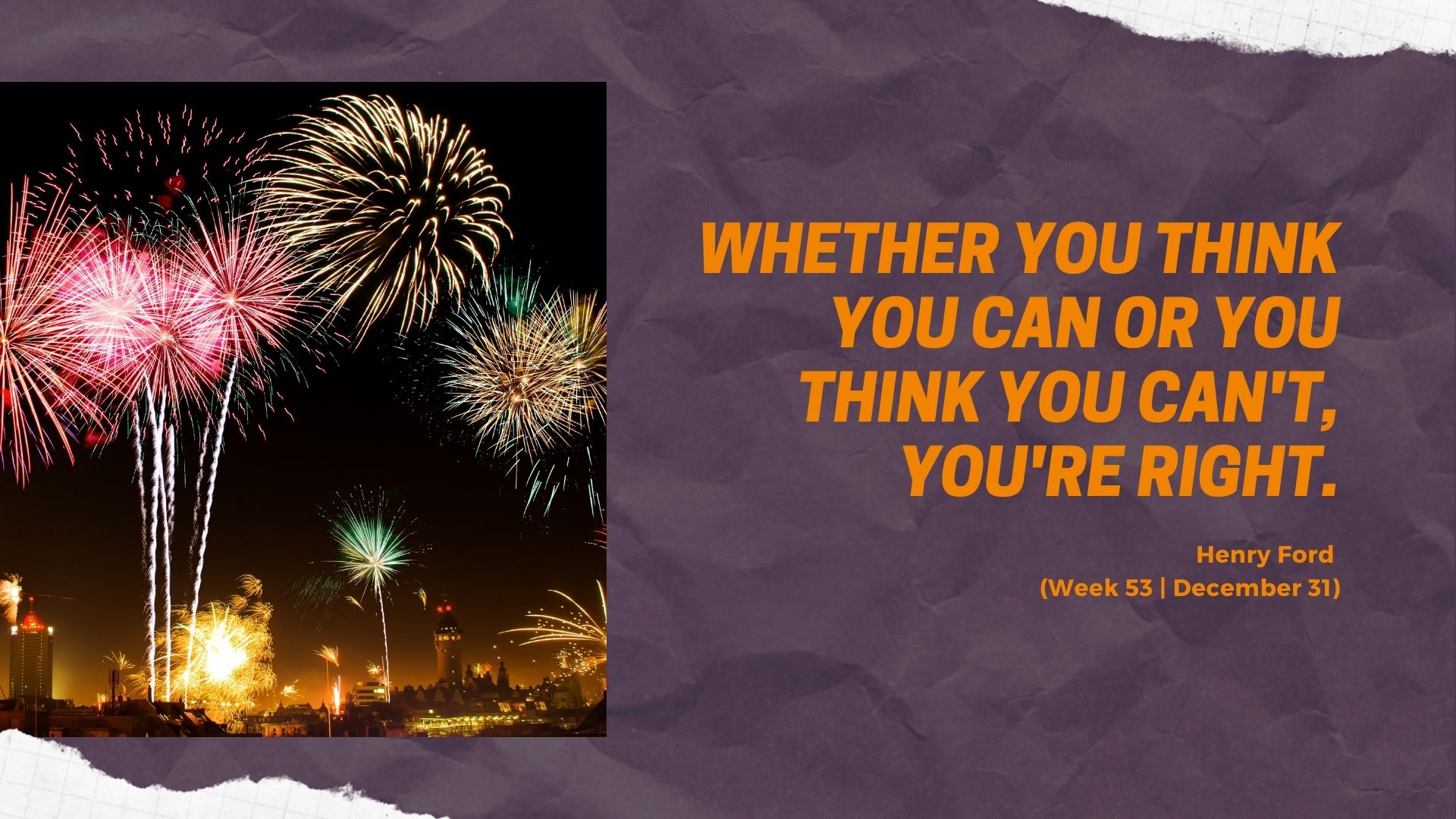 Hope all these quotes bright your whole year 2021. We also made a slider with relaxing and inspiring music and shared it on our Youtube Channel. Check it out 😉